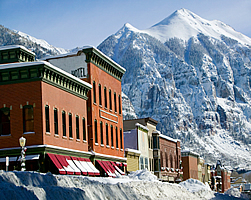 At the center of San Miguel County are the communities of Telluride and Mountain Village. These unique towns have put the southwest corner of Colorado on the map. Known for world-class alpine skiing, a myriad of summer sport activities, named the "Festival Capital of the Rockies"  and known for eclectic shopping, and exciting dining opportunities it entices and enthralls locals and visitors.
Telluride, at an elevation of 8,750, is tucked into a U shaped valley etched out from millions of years of glacier activity and surrounded on all three sides by 14,000-foot peaks. The rustic Victorian town of Telluride is just eight blocks wide and twelve blocks long and looks much like it did in the 1880's with brick hotels, clapboard storefronts and colorful Victorian-era homes. Because of its significant role in the history of the American West, the core area of Telluride was designated a National Historic Landmark District in 1964. A fun fact – at about this time in the mid 60's the population was 400 and an entire city block could be purchased for $500.  It's population today is 2221 and the average house price is $550,000.
Mountain Village is perched above the valley floor at 9,500 feet, providing access to the Telluride Ski Resort, one of the best, visitor friendly ski and golf resorts in the world.  In 2003, Prospect Bowl, an extension to the ski area opened, providing the resort with many new trails and back country runs. In 2007-08, the ski area opened some of the most extreme, in-bound, hike-to terrain in the country. Most lifts in the area are high speed quad chairs capable of holding four passengers. The highest lift on the mountain reaches an altitude of 12,255 feet. Groves of quaking aspen and deep green conifers create a vision of alpine elegance.  This European-style village tempts guests with the best of everything in the Telluride region. Coming into its own as a leading community, Mountain Village embraces green practices and sustainable growth in its everyday operations.  With a population of 978 the average home price is $3.4 million.
The two towns are connected by a free, scenic gondola—the only transportation system of its kind in North America. The 13-minute ride is a daily event for residents and visitors alike.